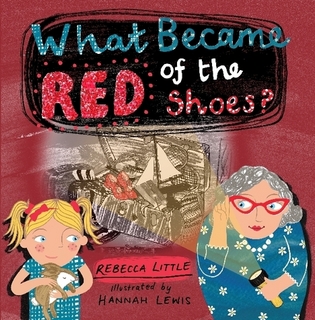 TOURING SPRING 2017 FOR WORLD BOOK DAY AND AUTUMN 2017
Cast List:
Creative Team:
Hannah Lewis - Illustration
Rebecca Little - Author, Adapter, additional Composition and Lyrics
Michaela Betts - Composer
Adam P McCready - Sound Design
Based on ideas from the original show by:
Matt Chell - Set Design and Build
Dani Kidson - Costume Design
Vicky Sklar - Director and Choreography
Based on the original show written and devised by Victoria Sklar and Rebecca Little
Storytelling with a difference as we bring our beautiful picture book to life with music and song to join Ruby on her quest to find the red shoes.
Granny Flo's attic is full of old junk…or is it?
One rainy day her curious grand daughter Ruby explores it and discovers forgotten treasures, including an old grey photograph of a girl wearing a pair of shoes which are mysteriously...red!
Her imagination is sparked and she embarks on a quest to find the red shoes. On her magical journey Ruby meets a pirate, some helpful animals, a grumpy snowman and even has a trip to space!
A 50 minute book reading version of our picture book with music and song, based on our award winning show, suitable for all ages 3+
The What Became of Red Shoes? picture book is available for purchase after the storytelling session, written by Rebecca Little and illustrated by Hannah Lewis. You can also purchase it via our website here.
Based on our 2014 Arts Council funded show What Became of the Red Shoes?
Suitable for libraries, school classrooms, rural touring venues and theatre festivals.
We can also provide a teachers' pack and workshops for schools based on the show.